Celebrating an anniversary in the midst of a pandemic can be unsettling. But it can also be truly inspiring. I believe this is the case for Open Support. Drawing on 30 years of experience, meeting the needs of our time, Open Support knew how to read the signs of these difficult times and act on it.
The birth of Open Support in 1990 is intertwined with the story of St Vincent's Clinic. I was part of the Congregation Leadership team as the Vicar at the time. A group of visionary doctors approached us with a unique request to build a multidisciplinary clinic. Our then Congregational Leader, Sr Mary Maguire, argued that everything we do needs to be apostolic work, a ministry that reaches out to the poor and the marginalised. This is how, with the birth of St Vincent's Clinic, came a sine qua non condition: the creation of an organisation within the Clinic that would fulfil this mission. Sisters of Charity Outreach, now called Open Support, officially opened on 25 September 1990.
This was a very exciting, albeit anxious time. We were looking at new, creative ways to carry out our mission. Slowly but surely, our organisation started to develop and became a real hub for support. Like Sister Mary Maguire had envisioned, it became a place where people could be listened to and counselled, where country people would feel valued and cared for, and where women could be supported and protected. It has been a wonderful place to be part of. One of the most remembered experiences for me as Co-Executive Director was the richness and importance of Volunteers. They were the gems that carried our vision out into the community. In addressing unmet social needs through three decades, the organisation has kept on evolving.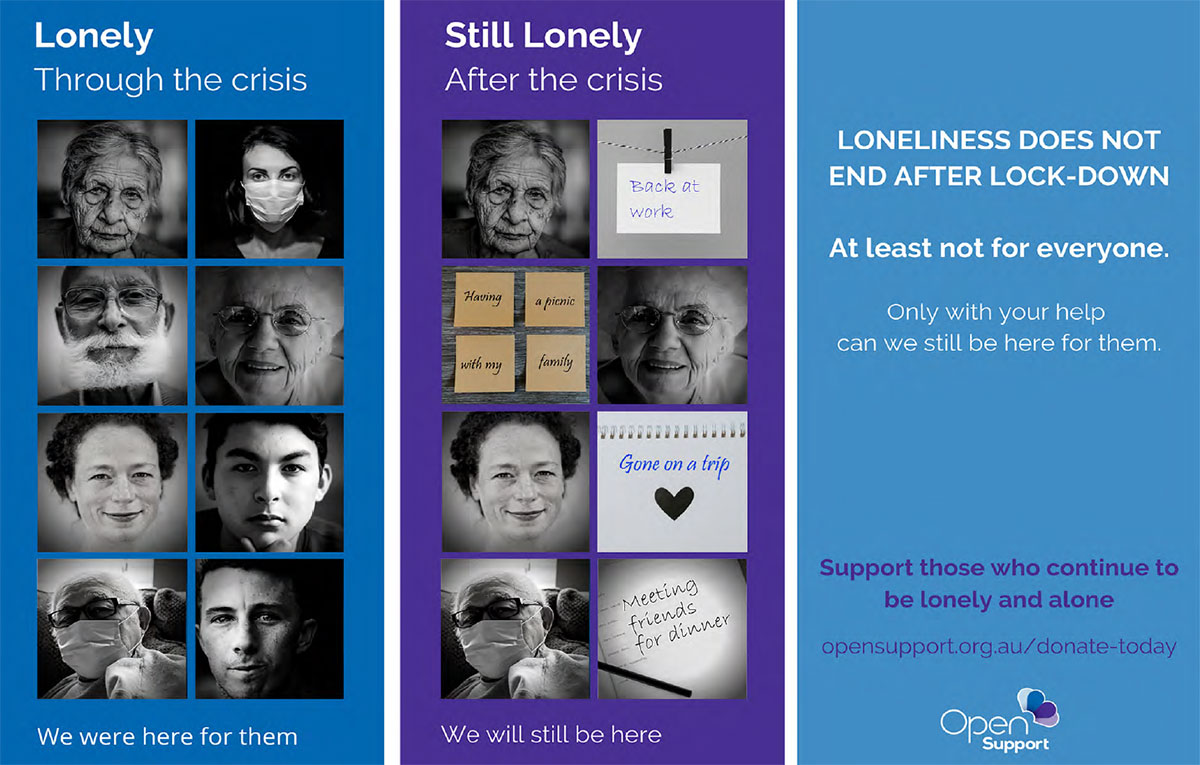 Change is always difficult, but it is at the heart of Open Support's mission: reading the signs of the time, and responding to them. This cannot be achieved without change. When the Sisters of Charity transferred to Mary Aikenhead Ministries and we handed over the organisation to lay leadership, it became Open Support. Despite a different name and different times, there is one thing that did not change: the outstanding commitment to the mission. The latest proof of that is how Open Support has reacted to COVID-19. It shows that no matter what, the organisation keeps on meeting those needs. The way the team has adjusted, working tirelessly to support women affected by domestic violence, people in regional areas and those who are socially isolated through the crisis, is magnificent. When I see how Open Support has increased their support to more women impacted by domestic violence, and moved up from 130 clients to connecting with 400 people on a weekly basis by having a little conversation, caring about their wellbeing and offering some social connection, I find it fantastic.
I know what that phone call means. Seeing where Open Support is today, I would say the Sisters of Charity would congratulate each and everyone; volunteers, staff, leadership, in taking action, and always with this underlying mantra "what more can we do?" attitude. When Sr Mary Maguire proclaimed 30 years ago these prophetic words "No outreach, no Clinic", it became clear with time that what Sr Mary Maguire wanted for the disadvantaged and poor has come to fruition.
Sr Clare Nolan
Congregational Leader, Sisters of Charity
www.opensupport.org.au