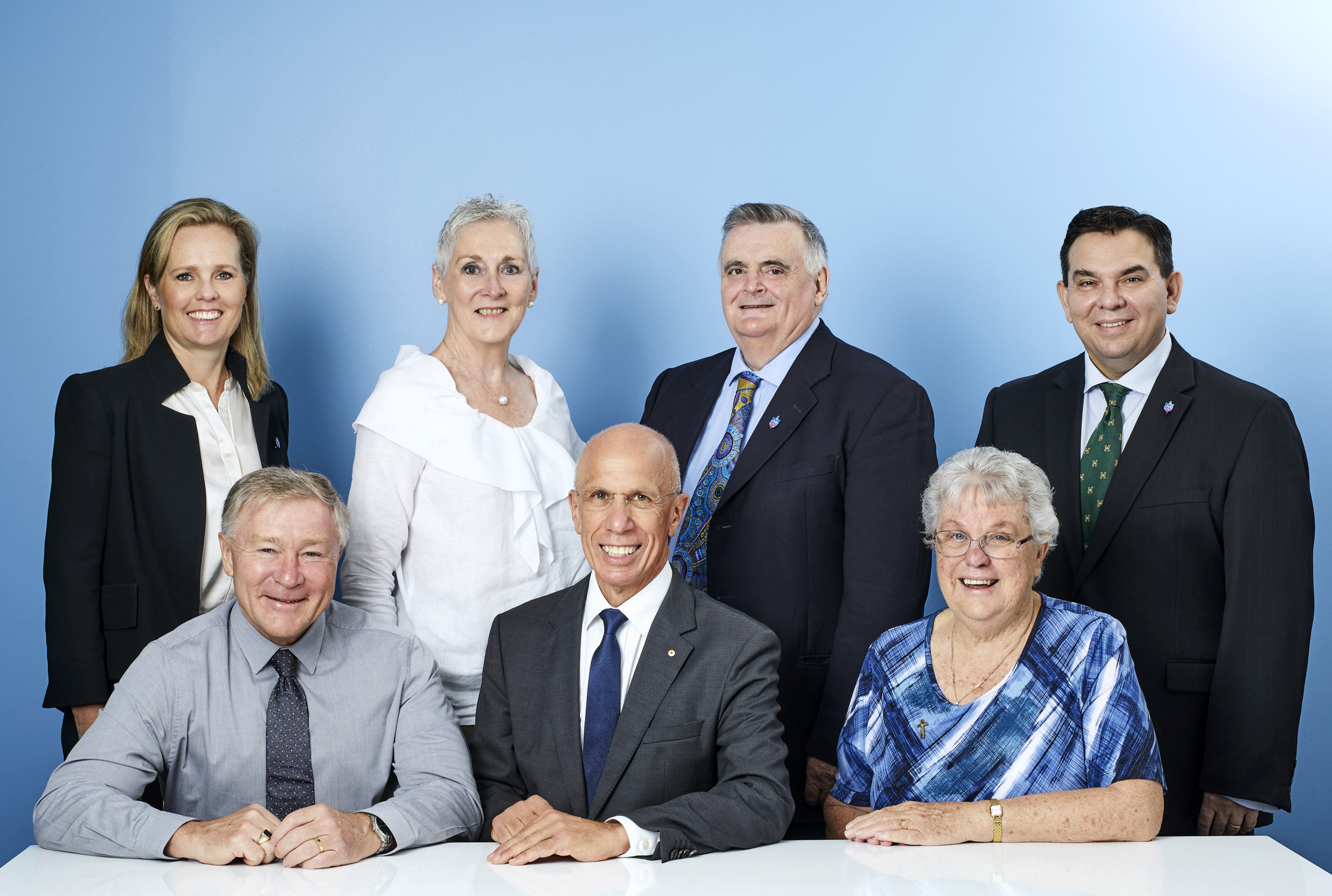 Under Mary Aikenhead Ministries, the many health (including aged care and research institutes), education and some social service ministries that were established and developed by the Sisters of Charity in Australia, are governed by a group of Trustees.
The Trustees are the Canon Law and Civil Stewards of the Ministries.  As such, the Ministries report to, and are accountable to the Trustees.
The Trustees exercise ecclesial leadership on behalf of the church in a collaborative manner that enables discernment to underpin the decision making process.
For a statement about the role of the Trustees, click here.
For a listing of past Trustees click here.
Mr Richard Haddock
AO KSG BA LLB
Chair
Richard was appointed to the Trustees of Mary Aikenhead Ministries on 1 December 2019 and will become Chair effective 1 January 2020. Richard has had a longstanding relationship with the Catholic Church in Australia. Richard is currently Chair of St Vincent's Curran Foundation, CatholicCare Sydney, Sisters of Charity Foundation, Investment Committee of the Archdiocese of Sydney and his local Parish Finance Committee. Richard is also a director of Catholic Church Insurances, University of Notre Dame Australia and Aid to the Church in Need and a member of the Executive Committee of the SE Region of the Knights of Malta.
His previous positions and career in the law and finance sectors have included being a member of the Finance Committee of the Archdiocese of Sydney, Chair of the Australian Catholic Superannuation and Retirement Fund, National Treasurer of Caritas, director of several public companies (both listed and unlisted), senior executive of the BNP Paribas Group and a solicitor with Dawson Waldron.
Richard was awarded an officer of the Order of Australia for distinguished service to the community, to charitable groups, to the Catholic Church and to the finance sector. He is also a Papal Knight of St Gregory.
Married to Katy, Richard has two married adult children and five grandchildren.
Mr Gary Humphrys
Deputy Chair
Gary was appointed to the Trustees of Mary Aikenhead Ministries on 1 July 2017.  Gary has almost 40 years' experience in senior executive roles covering a number of disciplines including finance and accounting, treasury, taxation, IT, procurement and audit in the energy and mining industries in both the public and private sector.  Gary has held various directorships in the health, mining, water and energy sectors.  He was previously a Director of St Vincent's Health Australia Limited and is currently a Director of HESTA Superannuation.  Gary also has recently been appointed as Chair of the Audit & Risk Committee of Brisbane's South Bank Corporation.
Laureen Dixon rsc
Laureen was educated by the Sisters of Charity at St Thomas' Lewisham and Bethlehem College Ashfield and went on to gain her teaching qualifications at the Catholic Teachers College North Sydney prior to joining the Congregation of the Sisters of Charity in 1971. She taught and was principal in a number of schools in Sydney and Melbourne.
In 1978 Laureen attended the National Pastoral Institute to further her studies in Religious Education. She later gained a Masters of Pastoral Studies from Loyola University in Chicago and a Masters of Theology from the Sydney College of Divinity.
Laureen's special interest is Pastoral Theology. She has been engaged in adult education, community development and counselling and was Parish Coordinator at Our Lady of the Rosary Kensington (NSW) from 1999 - 2001.
From 2002 -2014 Laureen was a member of the Congregational Council and responsible for areas of ministry including: Aged Care, Mission Overseas, Parish Associates, Primary Education, Property, Professional Standards and Justice issues. During this period, Laureen was engaged in the preparation of the Petition to be sent to Rome for the establishment of Mary Aikenhead Ministries.
In recent years, Laureen has been a Director on the Board of the Sisters of Charity Foundation Ltd, St Vincent's College Ltd, on the Congregation's Advisory Finance Committee and most recently a director of Sisters of Charity Community Care Ltd, and a member of the Heritage Centre Development Committee. Beyond the Congregation she was a Trustee for Catholic Healthcare Ltd and Chair of the Board of St Clare's College Waverley. She was an Executive Member and then President of the Conference of Leaders of Religious Institutes NSW.
Currently Laureen is engaged in a pastoral role in a Catholic Parish Primary School.
Professor Michael E. Drew
Michael E. Drew is managing partner of Stonechat Capital; a director of Drew, Walk & Co.; and a professor of finance at Griffith University. He is a financial economist specializing in the areas of investment governance, pension plan design, and outcome-oriented investing. Professor Drew's research has been published in leading practitioner journals, including the Journal of Pension Economics and Finance, the Journal of Portfolio Management, and the Journal of Retirement. He has been invited to make submissions and to testify before numerous committees, including the US Department of Labor and the SEC joint hearing on target-date funds. Professor Drew serves as a specialist member of the QSuper Investment Committee and is a member of the Investment Advisory Board of the Petroleum Fund of Timor-Leste (East Timor). He received his PhD in economics from the University of Queensland, is an Accredited Investment Fiduciary Analyst®, and is a Life Member of FINSIA, the Financial Services Institute of Australasia.
Ms Janet Freeman
Janet Freeman was educated at St Mary's School, Rydalmere, and Bethlehem College, Ashfield. She graduated with a BA Dip Ed from Macquarie University in 1976, was awarded her Masters in Education in 1986 and a Graduate Diploma of Religious Education in 1996.
Janet has worked in Catholic Education for over 40 years, 25 of which were as Principal of Catholic schools; first, at Mercy College at Chatswood and then at Loreto, Kirrilbilli for 15 years. Amongst other appointments in her career, she has been on The National Executive of both The Association of Catholic School Principals and The Alliance of Girls Schools Australia, State Secretary and Treasurer for the ACT/NSW Branch of the Association of Heads of Independent Schools, a member of the Parramatta Diocesan Schools' Council, the Broken Bay Diocesan Schools' Board and for ten years was a member of the NSW Catholic Education Commission Education Policy Committee. Presently she is a member of the Marist Regional Education Council (NSW). Janet consults in education, particularly being involved in the selection and performance review of executive staff for independent and system schools.
Associate Professor Peter Howard
PhD M.Ed (Hons) BA Dip Teach
Associate Professor Peter Howard has been involved in the development of a number of strategic partnerships with schools, community agencies, government, Church, corporate and university sectors. My approach to personal life and professional work emphasises the integration of theory and practice through collaborative 'grass roots' engagement and presence with communities including rural, Aboriginal, schools, disadvantaged peoples and low socio-economic as well as partnering purposefully with those who can enable policy and institutional change. My professional and personal life has a strong values-based framework of justice, care and compassion shaped by scholarship and the praxis of Gospel.
Peter holds a Doctor of Philosophy, Master of Education (Hons), Bachelor of Education; Diploma in Teaching. As an Associate Professor of Australian Catholic University (1987-2019) I have held leadership roles in the ongoing transition and change management growth of a significant international Catholic university. Most recently (2003-2019) as National Leader, Clemente Australia a community embedded socially supported higher education program for people experiencing multiple disadvantage with a focus upon the humanities.
Within ACU and other universities I have lectured in mathematics education, Aboriginal pedagogy, classroom management, teacher education professional skills, community engagement and social justice and analysis. I have presented keynote talks, research papers, workshops, webinars and discussion groups and published journal and refereed and reviewed research and opinion articles individually and with other colleagues at numerous conferences across Australia and internationally.
Primarily, I am an educator who has journeyed a pathway of social justice and scholarship. I have visited and worked in hundreds of schools both primary and secondary. I 'feel at home' in the presence of teachers, students and school communities whether rural, remote or urban.
I have been privileged to travel to the capital cities, regional areas and bush of Australia as well as internationally. In these travels I have learnt a little more of who I am in this global world and a respect for others and their cultures. And nearly always, in the good, hard and tragic days, taking time to care and reflect with prayerful consideration.
Penelope Wright
Dip.Law (LPAB) BEc. LLM
Penelope Wright was appointed to the Trustees of Mary Aikenhead Ministries on 1 May 2019.
Penelope is a practicing solicitor with her husband in a small firm in Sydney they opened in 2005. She also holds a Bachelor of Economics and a Masters of Laws at the University of Sydney.
Prior to studying law, Penelope worked in retail banking, funds management and government relations with a major Australian bank.
Previously Penelope has been a member of the Board of the Sisters of Charity Foundation and Waverley College. Penelope is a past Chair and Deputy Chair of the NSW Premier's Youth Advisory Council and remains active in local community organisations in various roles.